Error Disk is Not Formatted Window
Cut Down the Issue Error Disk Is Not Formatted Windows Cannot Read From This Disk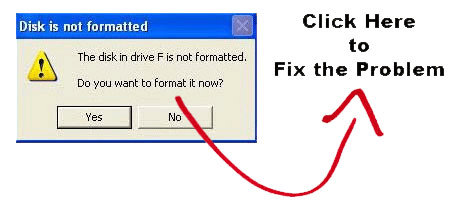 Error: Disk is not formatted. Windows cannot read from this disk. Such errors are normally seen in hard drive, pen drive, Micro SD card, flash card etc when these drives are attached to computer or sometimes when users try to open external or internal hard drive. In such cases, users cannot access the data from drive and finally they will have to format the disk. If you are in the same annoying situation then, don't bother to format the drive because you can get back entire data stored on that device using our Hard Drive Data Recovery software.
How to Recover Data with Software?
If you have encountered the error disk is not formatted Windows cannot read from this disk, then download our free trail software to see complete process of data recovery before purchase. As it is not good to purchase before being sure about capabilities of software, it is wastage of time and money. After trying demo tool you will surely get resolution of all the queries in your mind regarding complete recovery of corrupt/damaged or deleted data items. It is also useful to check the data integrity. After doing all these steps, you will have to order the license of software.
It Is Necessary To Go With External Tool?
Users can select the tool or remote installation services for resolving "the drive is not formatted format it" or any other errors in external hard drives, both of these methods are helpful. If data is not confidential then, users can go with remote installation services as these are profitable over software if your data is not large in amount. We suggest purchasing software in licensed mode those who have confidential documents in the drive but, both the methods are workable, it is sure.